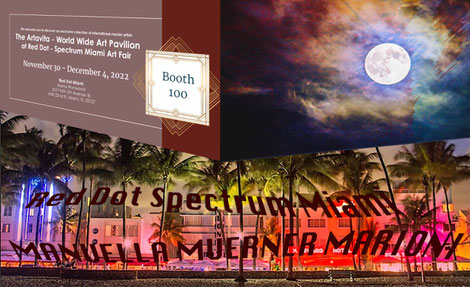 Die Künstlerin Manuella Muerner Marioni ist an der Kunstmesse in Miami, der Spectrum Red Dot mit zwei ihrer besten Digitalwerken Aquatic Women und Full Moon präsent am
Artavita World Wide Art Pavillon, Booth 100,
vom 30. November - 4. Dezember 2022
What are you hoping to communicate to the viewer through your work?
Yes, of course - art should move and convey something, as well as contribute to a different view of things (topics) - art should broaden one's horizons. With my work I want to break out of the rigid order of society, create tension and stimulate a lively discussion of the subject of "form" and "colours". It is a game of opposites.
What is your favourite part of the creative process?
There is no favoured process because the whole thing forms a unit. It starts with a topic that concerns me and then ends in a work that I have processed for myself on this topic. The process starts with a detailed interpretation on my part, trying to combine the whole thing on a variety of properties. At the end of the whole process, there are the subtleties, which of course I like to do best.
What does exhibiting at Spectrum Miami 2022 mean to you?
I am so excited to be part of such a fair, it is one of the most important art fairs in America; To be able to share my work with all the international crowd that comes to visit is simply amazing.