Kunstausstellung im Palazzo Albrizzi Capello
in Venedig
vom 20. - 27 April 2019
Vernissage am 20. April 2019 
Cocktail: 16.30 Uhr
Pianokonzert 17.30 Uhr
Finissage am 27. April 2019
Konzert 17.30 Uhr
Adresse:
Associazione Culturale Italo - Tedesca Venezia
Palazzo Albrizzi - F.ta San Andrea 4118, IT-30121 Venezia
Tel. 0039 041 52 25 475
palazzoalbrizzi@gmail.com
Öffnungszeiten: jeden Tag von 15.00 - 19.00 Uhr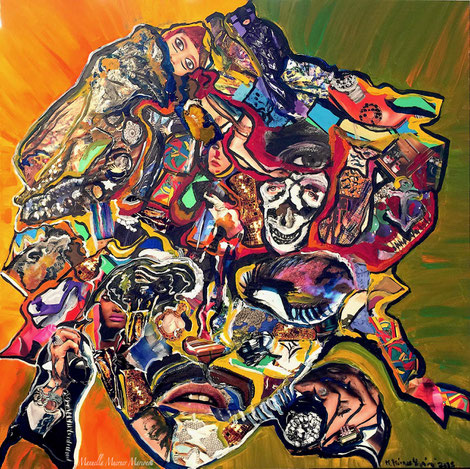 Telephone me - Collage by Manuella Muerner Marioni
This collage depicts the confusing thoughts of a person who would like to be in focus to share their concerns about people and their affections.
Diese Collage stellt die verwirrenden Gedanken einer Person dar, die gerne im Mittelpunkt sein möchte, um ihre Bedenken bezüglich der Menschen und ihrer Allüren mitteilen zu können.
Bilder der Ausstellung