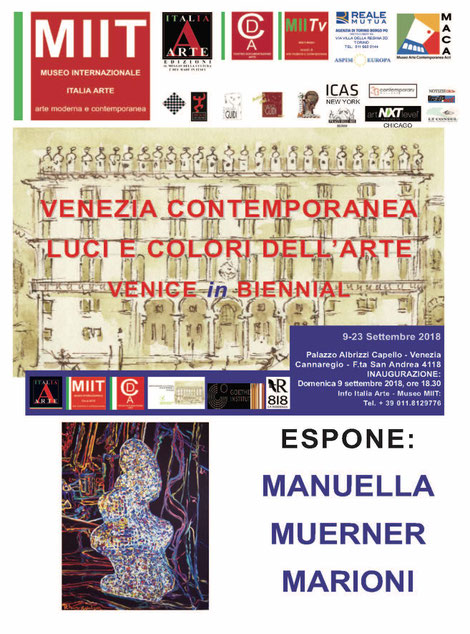 Manuella Muerner Marioni at the Palazzo Albrizzi Capello, 
Galleria della Biblioteca del Teatro contemporaneo Europeo, Cannaregio, F.TA SAN ANDREAS 4118
Opening: September 9, 2018 at 6.30 PM
Exhibition: 9 - 23 September 2018
Exhibition curated by Italia Arte, Dr. Guido Folco
The artist is represented with her famous artwork Alice in Wonderworld, Acrylic on canvas 100 x 75 cm, 40 x 30 inches, Height x Width
THE IDEA OF THE EXHIBITION: On the occasion of the major events hosted in Venice, the International Architecture Biennial, the International Film Festival, the Venice Glass Week and the Music Festival, Italy Art, MIIT Museum and Folco Gallery take care of and organize the exhibition in two sessions "Venice in the Biennale. Contemporary Venice: lights and colors of art that will be held respectively from 24 August to 7 September and from 9 to 23 September 2018 at Palazzo Albrizzi Capello, home of the Guatemale Pavilion at the 2018 Architecture Biennale, with the Patronage of the Cultural Association Italian-German and the Goethe Institut of Venice. The event is also organized as part of the first European Year of Cultural Heritage to which the MIIT Museum adheres with its 2018 exhibitions.